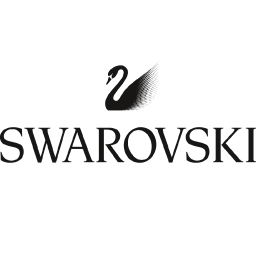 Accessories
Swarovski
Sparking delight since 1895
Swarovski creates a more sparkling world and offers a diverse portfolio of unmatched quality, execution and creativity. Founded in 1895 in Austria, the company designs, manufactures and sells the highest quality crystals in the world, precious stones, Swarovski Created Diamonds and zirconia, final products such as jewelry and accessories, as well as solutions for interior design and lighting.
Now celebrating its 125th anniversary and led by the fifth generation of the family, Swarovski Crystal Business has a global reach with approximately 3,000 stores in about 170 countries, more than 28,500 employees and revenues of around 2.7 billion euros in 2019 .
Together with its sister companies, Swarovski Optik (optical devices) and Tyrolit (abrasives), Swarovski Crystal Business makes up the Swarovski Group. In 2019, the Group generated around 3.5 billion euros in revenue and employed more than 33,980 people. In 2019, Swarovski UK Limited received a royal warrant as a crystal manufacturer and supplier for Her Royal Highness Queen Elizabeth II.
A responsible relationship with people and the planet has always been an integral part of Swarovski's heritage, and is now incorporated into the company's well-established sustainability agenda. In addition, the global educational program Swarovski Waterschool reached 500,000 children in the world's largest rivers. The Swarovski Foundation was founded in 2013 to honor the philanthropic spirit of the creator of the company Daniel Swarovski, and works to support culture and creativity, promote human empowerment and preserve natural resources to achieve a positive social impact.
Hours
Temporarily closed due to Covid-19